The driver board, wire harness and the motor are compatible with this entire list.
Stern S.A.M.
Family Guy
Pirates of the Caribbean
Shrek
Wheel of Fortune
World Poker tour
Sega/Stern Whitestar
Apollo 13
Austin Powers™
Elvis
Godzilla
Goldeneye
Grand Prix
Harley Davidson® (1st Edition)
High Roller Casino
Independence Day
Lost In Space
Monopoly™
NASCAR®
NFL
Playboy®
Ripley's Believe It or Not!®
Roller Coaster Tycoon
Sharkey's Shootout
South Park
Space Jam
Star Wars Trilogy
Starship Troopers
Striker Xtreme
Terminator 3: Rise of the Machines
The Lord of the Rings
The Lost World Jurassic Park
The Simpsons Pinball Party
The Sopranos®
The X Files
Twister
Viper Night Drivin'
Bill Validator Plug

All Stern S.A.M. & Whitestar pinball machines were produced with a bill validator plug on the coin door harness. This plug should have a connection to the transformer jumper plug AC input. In order to connect to this small 9 position plug, we will provide an inline connection to it that will power the included 12vdc power supply.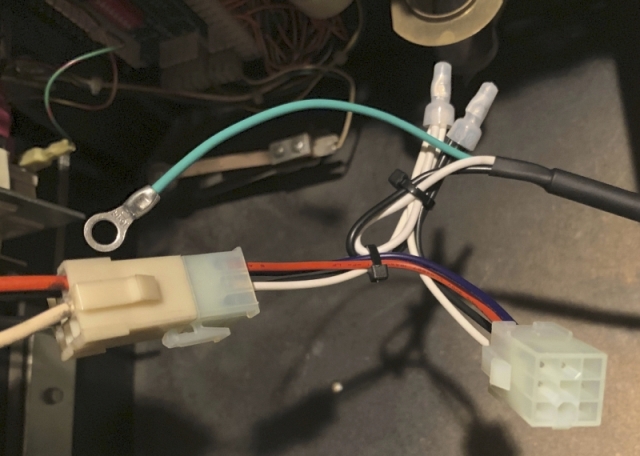 Pinball Machine Service Port
One way you can connect the included power supply is through the machine's service port. One thing to keep in mind with this method is that power will remain even when you turn off the power switch under the machine. So whenever the machine is not in use it will need to be unplugged. Do not leave the machine unattended with power to the included power supply.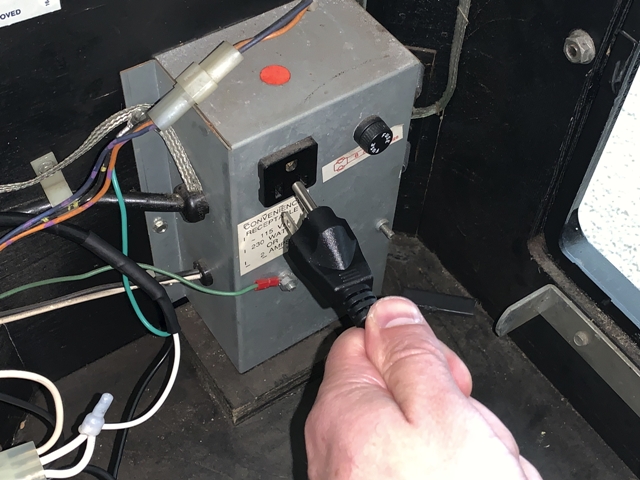 Q. When will this kit be available for purchase?
A. This kit is on Back-order. We hope to have them back in stock by the middle of November.

Q. Can I transfer this kit from one machine to another?
A. Yes you can, you will just need to re-install everything of course. You may even need a new wire harness depending on what machine you transfer the kit to. If your new machine requires a new harness or power supply connection, you can purchase those individually from the "Parts & Accessories" category.
Q. What if I already have my own shaker motor or power supply, can I just buy the driver board and wire harness?
A. Yes, you can purchase just the driver board and wire harness from the "Parts & Accessories" category. This driver board is only compatible with the industry standard shaker motors. You may not use this board with your own "home made" shaker motor as that may cause damage to the motor, driver board, or even your pinball machine. If you use your own power supply make sure it is a 12vdc power supply with at least 2.5A available to drive the motor. Any other voltage or less amps will cause damage to the driver board and possibly your pinball machine. Under no circumstances are you to use power from the pinball machine's power driver board to run this motor driver board or shaker motor. Doing so will most definitely damage the motor driver board and possibly your pinball machine's power driver board.
Q. Can I just buy the shaker motor from you?
A. No, we are not a re-seller for just the shaker motor. You must purchase one of our products that includes the motor driver board along with the shaker motor.
Q. Will this kit cause damage to my machine or circuit boards?
A. We have done an extensive amount of testing with several different pinball machines. In addition, we have stress tested the motor driver board by pulsing the motor on/off continuously for several hours in order to monitor component temperatures. There have been no issues with overheating components and no issues with the motor or driver board causing interference or damage to any of the circuit boards or any other components of the pinball machines we have tested. One of the major reasons we believe this kit is completely safe is that we chose not to run the motor using power from the pinball machine's driver board. This keeps the motor isolated from the machine's power supply, only connected via logic outputs and a common ground. Please keep in mind that the machines we have tested are in good working condition with no grounding issues or hacked circuit boards. It is impossible to predict the outcome of using our shaker motor kit, or any third party mod for that matter, in a machine that has pre-existing problems such as grounding issues, reset problems, loose wires, cold solder joints, hacked circuit boards etc. You are installing this shaker motor kit at your own risk, Pinshakers assumes no liability for any damage that may occur to your machine.
Q. Why does your motor driver board look like an Arduino UNO? Is it a variation of an Arduino?
A. No our driver board is not an Arduino of any kind. We simply designed the dimensions to match that of the Arduino UNO so that we can choose among the various mounting brackets on the market for the UNO without having to go through the expense of fabricating our own.
Q. What is your return policy?
A. We offer a 30 day money back return policy. If you are not happy with the kit, simply return it to us postmarked within 30 days of receipt in the same condition as you received it for a full refund minus shipping charges. To return an item, simply go to the returns section at the footer of any page on this site and put in an RMA request. The item must be returned prior to receiving a refund or replacement.
Q. What is your warranty policy?
A. We offer a 1 year warranty on the motor driver board, wiring harness, and power supply. If you have any issues with one of these components within one year of receipt, send it to us for repair or replacement. For the shaker motor itself, we offer a 60 day warranty. We offer lifetime email/telephone/text technical support. To return an item, simply go to the returns section at the footer of any page on this site and put in an RMA request. We will send you a pre-paid return label. The item must be returned prior to receiving a refund or replacement.
Q. If I choose a flashlamp as a trigger, will the shaker go off during attract mode?
A. If you have the driver board connected to a flashlamp, and the flashlamp goes off in attract mode or after a game is finished, then yes the shaker motor will pulse as well. We are trying to find a way to prevent this, however at this time there does not seem to be a cost effective way of doing so. The good news is that most machines do not pulse the flashlamps in attract mode, just the computer controlled lamps. However there are some machines that do, but it really isn't that huge of a deal. If you are dead set against your motor going off during attract mode, then we suggest choosing the special solenoid version and running the motor off of the pop bumpers or slingshots as they do not trigger at all when a game is finished.
Q. Can I have more than one flashlamp or special solenoid drive the shaker motor at the same time, or do I have to only chose one of the 8 inputs?
A. Yes, you can even have all 8 inputs set to on if you wish. The driver board program will run the motor on a first come, first serve basis. Multiple inputs at the same time will not hurt the driver board or the motor.
Q. How many of these kits are you planning to produce? Are you just going to do a limited run of them?
A. We are not going to limit the number of kits that will be produced and offered, as long as there is a demand we will continue to keep them in production. This is not just a hobby or an experiment, we have put a considerable amount of money and resources into the development of these shaker motor kits. We will continue to improve upon the design based on customer feedback and our own testing and experience with them.
Q. Why is your kit so expensive? I see other kits selling for a lot less than yours.
A. This is a very valid question. You have to understand that other kits out there are built to work with machines that were pre-designed by the manufacturer to have a shaker motor installed. So all of the computer control of the shaker is built into the CPU. So all you need with those machines is the hardware and a basic circuit board that does nothing more than provide voltage filtering. Our kit however, is built to work on machines that weren't designed to have shaker motors installed. So all of the programming and control of the motor is done with our own custom made driver board. The board may look small and simple at first glance, however there is a lot going on with that little device. There is also an IC chip that has a very complicated program that we developed specifically to safely operate the motor in an environment that wasn't meant to have one. Additionally, we have chosen to include high quality parts with our kit. Everything is made from high quality materials. We have installed this kit in all of our own machines, and we want it to run safely and reliably for many years to come.
If you have any additional questions about our custom universal shaker motor kits, please do not hesitate to reach out to us.
Plug and Play Universal Full Shaker Motor Kit for Stern S.A.M. & Whitestar era pinball machines. Ever wish your older S.A.M. or Whitestar pinball machine had a shaker motor in it? Finally now it can! You will be able to choose between flashlamps or solenoids (VUK, pop bumpers, slingshots etc.) on your machine to trigger the shaker motor. Everything is completely plug and play, no soldering, no wire crimping, no alligator clips, and no wire splicing required.
Features

Up to 8 possible triggers to drive the motor. Two standard harnesses "A" and "B", each with 8 triggers

On Board dip switch where you choose to have one or more triggers

You can customize your own harness to get the exact triggers you want

On board adjustment knob that you turn by hand to get the perfect amount of shake

On board test switch, allows you to pulse the motor so you can make your intensity adjustments quickly

Separate power supply that integrates with your machine, saving strain from using the power driver board



Harness Choice
We offer you the choice with your kit to receive our "A" and "B" harnesses. You can only have one harness connected at a time, however swapping between harnesses is quick and easy. Each harness has up to 8 different triggers, use the dip switch settings matrix found in the documentation tab to make your choices.
Availability
This kit is on Back-order. We hope to have them back in stock by the middle of November.

Military Discount
As a U.S. Army Veteran I always look for ways to support our troops. Pinshakers will be providing a 10% discount on the complete kits to all active duty U.S. military members. Just use your .mil email when you checkout and we will issue the 10% refund to your paypal.
What do you get
Below you will find a list of what is included with this full kit, which is everything you will need to get yourself up and shaking. If you already have some of these items such as the shaker motor or 12vdc 3A+ power supply, then you can piece together your own kit from the "Parts & Accessories" category.
The Full shaker motor kit includes:
Shaker Motor

Shaker Motor Plastic Cover Shield

Motor Driver Board

Wire Harnesses "A" and "B"

Power Supply (choose your connection choice during checkout)

Custom Shaker Motor Drill Guide

All Required Mounting Hardware

Detailed Install Guide
Stern S.A.M. & Whitestar Full Shaker Motor Kit
Product Code: PINSHAKERS-STERN-1.07
Availability: Back-ordered (1-2 Weeks)